Next visit was to the aèrodrome of St.Cyr-l'Ecole. A small airfield almost in the back yard of the palace at Versailles. There is a direct RER to St.Cyr, but as I missed that I took the next one, to Versailles, which has a far more frequent link. I couldn't find a bus to St.Cyr, allthough there must be several. I knew it was approx. 5km from Versailles to St.Cyr, so I decided to walk. After all, it was a sunny, though cold day. A long but pleasant walk, just alongside the fence of Versailles. No spectacular scenery by the way.
Just arrived at the airfield had F-GINR, a Bell 47. I was very happy to be granted permission to enter the field and went for a long, cold stroll. See the full log.
After some minutes I came to a hangar from which two man were pulling the airplanes. So I offered my assistence which was gladly accepted. It seemed they had to reshuffle some airplanes to other hangars. After pulling and pushing F-BOPH outside one pilot offered me a seat to "fly" this plane to a hangar on the other side of the airfield. Unfortunately he was unable to get it started, so after some ten minutes we descended the Mousquetaire. I then went on to investigate the remaining hangars while the Mousquetaire was now tugged to the other side of the field.


F-BOPH, a Jodel 140E Mousquetaire IV
One of the last hangars at St.Cyr held quite a bit of treasures. First of all I noted a MS.505 Criquet, F-BAVB, better known as Fieseler Fi-156 Storch. Then there was a fuselage of a Gardan GY80 lying in the corner, F-WREI. It had been used by its owner Mr Hirch in turbulence absorbing experiments.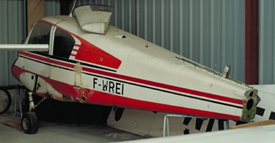 F-WREI, Gardan GY 80 Horizon 180
The owner of Pulsar F-PSDQ was working on his radio system, and pointed me towards the old fuselage in the back of the hangar, a Potez 43.
Although I saw many airplanes, during my stay I saw none flying. Of the airplanes I spotted, many were under maintenance. When I left the airfield, F-GIGL landed, and went into the air again. It was the same Robinson 22 that I had spotted on the heliport in Paris, earlier that day. Unfortunately still no chance for a proper picture.
During this visit I was able to log many interesting planes, with as an absolute highlight a Potez 43 under restauration.