It took me quite some time before I had figured out how to upload from Access 2010 into my online SQL database that is feeding these pages. Finally, last July, I succeeded. But only recently I did find some time time to upload. The good news is that most data, which I use to generate the log reports, is now available on line. But a lot of work to remain is in uploading the pictures of my 2010 and 2011 trips.
To show at least some pics, here are some taken during a visit to the Dugny side of Le Bourget in Paris, September 2010, where many surplus Musée de l'Air aircraft are stored. And where there are also a lot of restauration projects going on. Very interesting location to visit! As a bonus you also get a nice overview of bizjet activities, which even include large aircraft like Airbus 340!

33-FP at Dugny, Le Bourget 20100918

A7-HHK arriving at Le Bourget 20100918
The next day I stumbled upon an Open Door Day at Persan Beaumont, which I did not know about. Very nice opportunity to visit this interesting airfield north of Paris.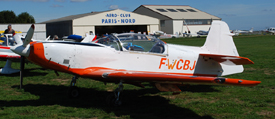 F-WCBJ at Persan Beaumont 20100919, which soon after had its test prefix "W" changed into a "P". Type is a Bachoffer BA-01
Last May I was present at the Tiger Meet 2011, with a lot of great opportunities for taking pictures. Who would have thought years ago to watch Polish F16s participating? Nor Greek and Turkish aircraft side by side?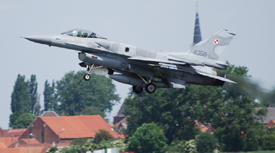 Polish F16 4058 taking off at Cambrai 20110511.
And last to highlight is a recent ealy morning flight from London City which I always find a pleasant airport to use. THE big change since my last visit was that now both BA and Lufthansa are extensively using their Brazilian jets instead of their Avrojets. Not difficult to predict CityJet and Swiss will sooner or later also start using these nice and handsome aircraft. It is the Brazil jets now dominating this airport.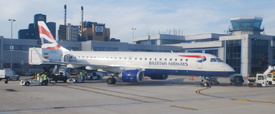 One of the Boys from Brazil, G-LCYL, at London City Airport.
Now and then I wonder if it would not be easier to use the standard PICASA or FLICKR tools, to name some. But then, I want full control over the way my pictures are represented. And of course, if you are interested in higher resolution copies, please contact me.