When I tried to find useful links on helicopters to check some logs, I did find the very useful Rotorspot by Jos Stevens.
When I first published this airblog post I was still looking for info on what at first glance seemed to be an Alouette II or Bell 47. It was static on the roof of the Free Record Shop office building in Capelle a/d IJssel, near Rotterdam, the Netherlands. It can be easily noticed when driving by on the A20 from Rotterdam in the direction of Gouda.
It appeared to be a phantasy heli, probably used for a film in the UK. It was placed on top of this office building as a silent protest, as this company was denied a heli-pad near their office building. (in 2009 this mock-up was still present.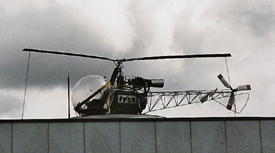 Capelle, 27 Apil 2002
As a byproduct to my search I also came across Worldairforces.com by Chris Thornburg, then a 727 freighter pilot in the Pacific. I was very much pleased by the maps with the genealogy of manufacturers per country, to be found under Companies. Unfortunately this website appeared no longer live, and only available in the Internet Archive, where you still can find the majority of maps. This archived version stops after Great Britain.
On Kaetron, the program he used to generate these maps I could not find any useful info.