A quick visit, and a kind permission to look around in the Heli-Holland hangars was a nice opportunity to spot some helis. See the full report for this heli field in Emmer-Compascuum.
At first, two helis remained unidentified, an unmarked H300C and an unidentified type, which had N11ZH on the instrument panel.
Info I did receive from Jack Wolbrink identified the H300C as PH-OTO.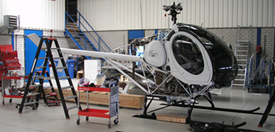 PH-OTO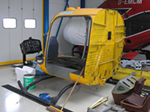 ATC simulator
N11ZH on instrument panel is not a registration, but the type for this ATC simulator.
Airframe is an Agusta built Bell 47J, whicht had a hoist equipment. It is probably an ex Spanish Navy heli, perhaps c/n 2096 marked HD.11-3. This info was received via Jos Stevens and UKcopter.